Smile with Confidence
Are you unhappy with the appearance of your smile? Cosmetic dentistry can improve your teeth and help you feel more confident with your smile. Whether you want whiter, straighter, or completely different shaped teeth altogether, cosmetic dentistry at Fort Collins Dental Arts can help. Dr. Guy Leavitt and his entire staff are committed to helping you achieve your ideal smile by combining the science of dentistry with the art of creating a beautiful smile.

Why Choose Cosmetic Dentistry?
There can be many reasons why you might dislike your smile. Dr. Leavitt offers treatments for almost every cosmetic condition, so we can address all of your concerns. Common reasons you might decide to have cosmetic dentistry:
Discoloration

Extensive cavities or gum disease

Crooked teeth

Missing teeth

Broken or otherwise damaged teeth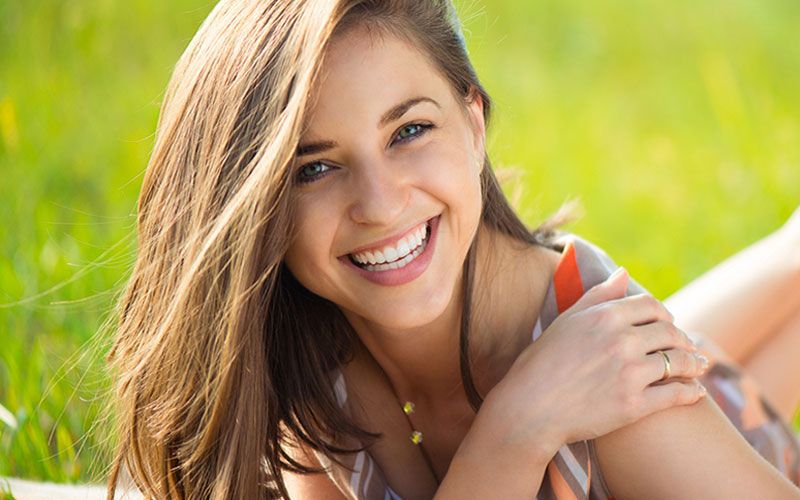 Types of Cosmetic Dental Treatments
Whatever your reason for wanting to improve your smile, the team at Fort Collins Dental Arts will help you develop a treatment plan to feel more secure about your smile. Learn about the services we offer, and how they can help you address and treat your cosmetic concerns.
In-Office Teeth Whitening
Teeth whitening is the most popular cosmetic dental treatment here in the United States. In-office teeth whitening treatments are instantly gratifying, quick, and straightforward way to transform the appearance of your teeth.

Although there are many cheap, over-the-counter options available on the market, professional whitening has proven to have better, longer-lasting, and safer results.
In-office whitening is performed over a number of sessions, ensuring that your treatments keep your teeth healthy and strong. The amount of sessions that you need will depend on the shade of your teeth at the beginning of the process, and the level of whiteness that you hope to achieve.
Smile Makeovers with Dental Veneers
Although teeth whitening is suitable for many patients, there are some instances when a person is unable to have whitening procedures, or cannot achieve the level of whiteness that they desire. Dental veneers provide a good alternative to whitening treatments. They also help cover chips and reshape irregular teeth.

Veneers are ultra-thin, shell-like covers that are attached to the visible enamel on the front of your teeth. They can be created in any shade desired, meaning that patients can achieve every standard of whiteness.

Veneer treatments are fairly straightforward. In order to fit the shell over your tooth, the existing tooth will be filed down. This treatment is a good option for patients suffering from discoloration due to decay, medication, or genetics.

Restore Missing Teeth with Dental Implants
It's not just the color of their teeth that some people dislike. Many patients have more extensive dental problems, like broken and damaged teeth.

In some instances, patients may also have lost a tooth due to trauma or decay. Dental implants provide a solution to all of these problems by replacing an unsightly smile with super-strong, permanent titanium-implanted teeth. Dental implants are discreet, looking and functioning like natural teeth.

Dental implants are a more cosmetically desirable form of tooth restoration. They can also preserve your dental health from further tooth loss and jaw deterioration. Not to mention, the results will last a lifetime.
Restoring Your Smile with Crowns
Are you dealing with unsightly chipped, decayed, and cracked teeth? Dental crowns can restore your tooth, while improving the color of your smile. At Fort Collins Dental Arts, we offer color-matched crowns as a restoration for damaged teeth. Crowns restore the color, shape, and function of your smile.

There are many scenarios, in which a crown might be an effective treatment. Crowns are often used when a tooth is too damaged for a dental filling. They can also be a good treatment route for patients trying to preserve a tooth after a root canal treatment, needing a dental bridge, or strengthening a fractured tooth. Besides providing aesthetic benefits, crowns also reduce pain in a decayed tooth
Choose Fort Collins Dental Arts For Cosmetic Dentistry in Colorado
Are you ready for a smile makeover? Cosmetic dentistry can transform the beauty of your smile and leave you brimming with confidence. Finding a trustworthy and experienced cosmetic dentist requires research.

For more than 50 years, Fort Collins Dental Arts has provided the highest quality dental treatments for patients in Fort Collins, Colorado and the surrounding areas. Our professional and experienced team is happy to assist you and get you on the path to a healthy and beautiful smile. Call us today for more information (970) 459-4459.
3950 John F. Kennedy Pkwy Ste E Fort Collins, CO 80525

(970) 459-4459