Whether you're a child or an adult, Halloween brings a lot of options for Halloween candy. Any dentist will tell you that candy isn't great for your teeth, but that doesn't mean you can't indulge during October. 
Instead, our family dentistry team at Fort Collins Dental Arts is here to help you enjoy sweets in a way that will keep your teeth strong and healthy. If you need to schedule a routine checkup or have a problem with your teeth, contact us today to schedule an appointment!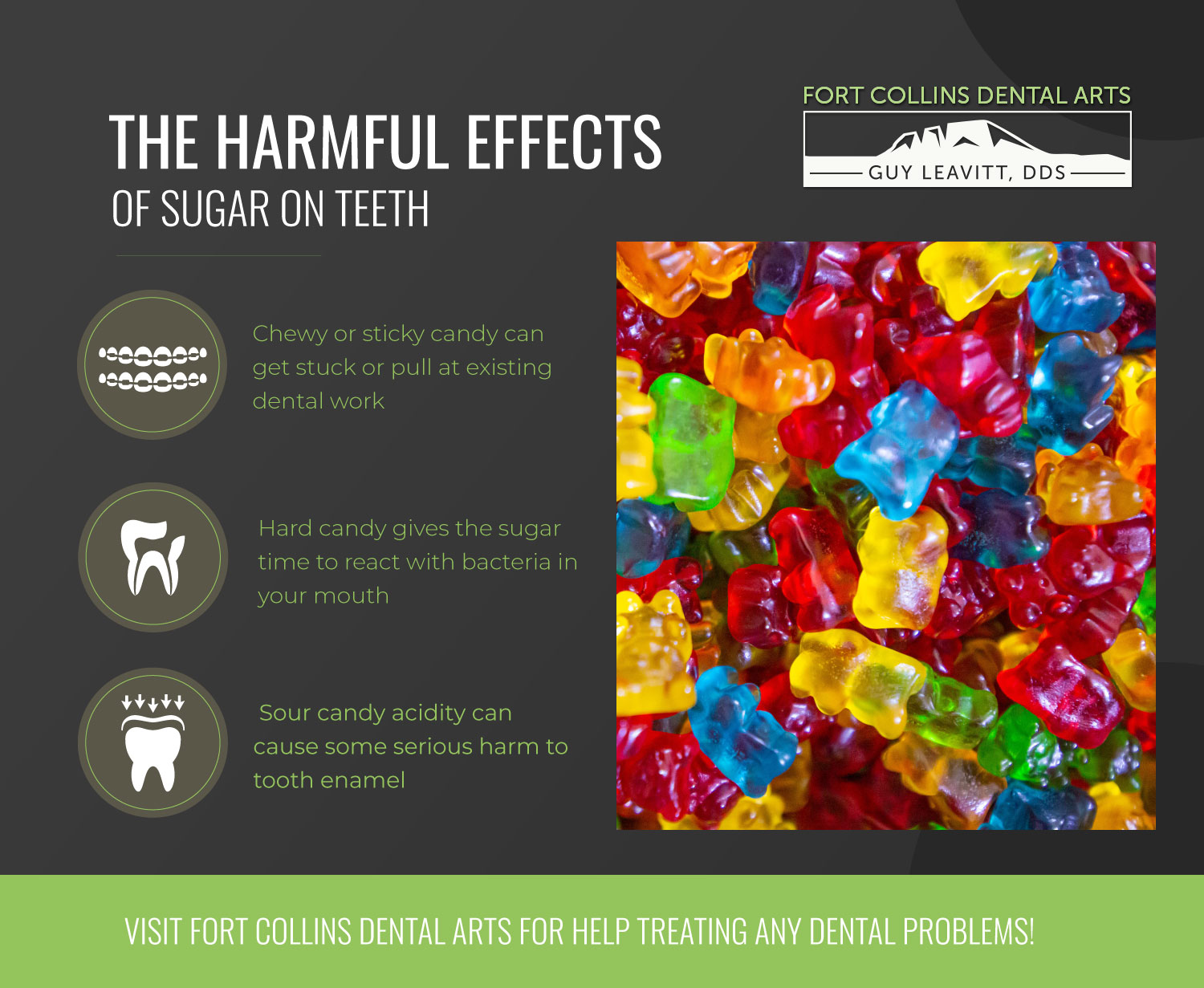 Halloween Candy and Your Teeth
Sugary foods and drinks — like candy — can cause long-term problems for your teeth. Over time, the plaque bacteria in your mouth uses the sugar from those foods to create an acid that attacks the enamel on your teeth. When the enamel breaks down, your teeth are left damaged and can cause sensitivity and pain. 
Learn more about the different types of Halloween candy you might find on your counter or in your family's trick-or-treat bags this year. 
Chewy & Sticky Candy
Anything that is chewy or sticky, like taffy or gummies, are some of the worst choices for your teeth. Pieces of this candy can get stuck between your teeth or pull at existing dental work, like fillings. 
While this candy can be enjoyed in moderation, brush your teeth or your children's teeth after eating or eat a crunchy snack, like celery or almonds, to help flush out that chewy candy. 
Hard Candy
Hard candy is not as bad as candy that is sticky, but it can also cause damage to your teeth. Candy like gobstoppers or lollipops are in your mouth for a long period of time while you eat them. That gives sugar a lot of time to react with the bacteria in your mouth and cause further damage to your enamel. On top of that, biting or crunching down on that candy too hard might chip a tooth! 
If you or your children have a soft spot for hard candy, be cautious with how often you eat it — and be sure to brush your teeth when you're done! 
Sour Candy
Sour candy that truly makes you pucker is filled with acidic sugar. While a sour treat is always delicious, the acidity can cause some serious harm to the enamel of your teeth. 
When you're done with a sour treat, follow that snack with something neutral — like a glass of milk — to help counteract that acidity in your mouth.
Chocolate
Who doesn't have a soft spot for chocolate? Since chocolate is soft and meltable, it doesn't pose the same problems as chewy or hard candy. In fact, dark chocolate or chocolate without a stick or creamy center is a healthier choice. This Halloween, indulge in your favorite bar of chocolate. Just be sure to brush and floss when you're done! 
This Halloween, Schedule With Our Family Dentistry
Our family dentistry team hopes that you enjoy the spooky season — and take care of your teeth when you're done with your sugary treats! 
Fort Collins Dental Arts is here to provide dental support for the entire family. Protect your teeth with preventative care — or visit us for help treating any dental problems. Contact us today to schedule an appointment!  
While you're here, take a moment to read through some of our previous blog posts: